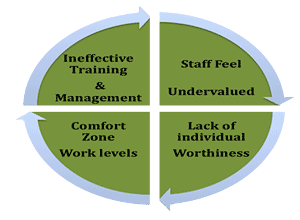 You must address the whole system
Frontline Solutions Ltd. and our accredited Associates offer your organisation a managed mentoring service.
How many of the 4 common obstacles to top performance exist in your organisation's teams?
Undervalued
Are your people often looking for another environment to attain valued feedback, job satisfaction, and career fulfilment? And are they unhappy with their lifestyle and not focused on their work?


Comfort Zone
Do your people shelter in their 'comfort zone of performance' or aligning with lower achievers to gain acceptance and support?


Worthiness
Do some managers and staff have doubts about belonging or their personal worthiness? Do they feel their work is important? Is performance recognised and acknowledged? Do your people feel alone or exposed as elite performers?


Ineffective Training
Have staff been disappointed by previous short-term solutions? - e.g. motivations, workshops and keynotes that promised but failed to change behaviour.